The choice of war RTS (Real Time Strategy) game for PC is once again increase due to the release of Wargame: European Escalation. This game offers great strategy gameplay as well as high quality graphic. This game is ready to rise up when the whole PC RTS game is down. Released recently on February 23, the required specification to play Wargame: European Escalation is surely pretty high, which are Intel E8400 Core2 Duo processor with 3.0GHz frequencies, 4GB of Memory RAM, 512MB ATI Radeon HD4830 graphic card, and Windows 7 64 bit. You can purchase this RTS war game for only $39.99.
So, what is good about this Wargame: European Escalation? Before answering the question, we better learn one at a time. Regarding the story, this game takes place when the cold war occur, which is happening at 1975 -1985. The main side that going to war is NATO vs Warsaw Pact, but some European set also will be experienced by players due to missions. But for you who expect a simple strategy game such as Command & Conquer or Red Alert, then you would not get what you expect as there is a lot more of depth and detail in this game, such as morale, ammo, health zones, weapons detail, vehicle's aiming or field of view, and even logistics system that make it really is a war game. All of those complete and detailed aspect of this game surely would make each missions counts as you need to prepare a lot of things and control a lot of units.
Wargame: European Escalation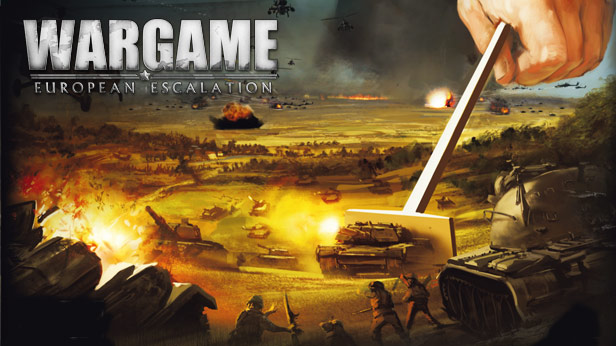 All the system are provided thanks to the technology behind this Wargame: European Escalation, which actually the same technology that powered R.U.S.E, though this game's technology shows a lot of improvement compared to the one that used to built R.U.S.E. Some of the proof of improvements is detailed object as it render better, bigger map, better environments, more realistic and highly detailed object and vehicle, and more close up and personal zoom function, which is not provided on R.U.S.E.
As for the gameplay, Wargame: European Escalation pretty much the same as other RTS game, which is based on the objective that given on each mission. You will need to build your own headquarters, capture resources, using command units, and others. The difference is if in other game you only capable of creating limited units, this game, thanks to the new engine allow you to built unlimited number of command units. But all depends on how much resources you have as more command units mean more costs and resources. The command units of this game also varying and looks exactly like the real cold war units, including troops, airborne infantry, helicopters, logistic vehicle, combat vehicle, artillery, and many more. No wonder that this game mostly obtain high score on each review on many websites.
There are also two kind of mode of the game, which are single player and multiplayer. 16 offline missions are playable in single mode, where you can take campaigns of NATO or Warsaw Pact. There is no good or bad in here, as this is war. And Wargame: European Escalation is able to bring that feeling right to gamers.